Welcome to the whimsical world of "Craft Puns" – a creative playground where words and artistry intertwine to produce clever, light-hearted, and often hilarious wordplay. Craft puns are a delightful form of linguistic humor that beautifully combines the intricacies of language with the charm of crafting and DIY projects.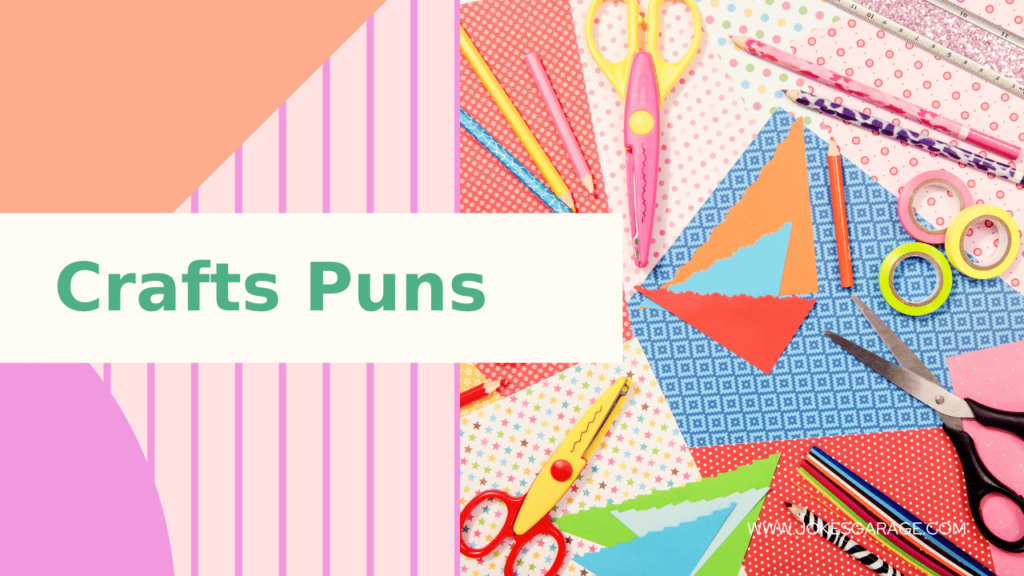 So, gather your glue guns, knitting needles, and paintbrushes as we embark on a journey through the world of "Craft Puns", where every project is a pun-tastic adventure waiting to be unraveled! Let's dive in and let the creative pun-derstorms begin!
Craft Beer Puns
Hoppy Hour: It's always a hoppy hour with craft beer in hand!
Ale-lujah!: When you finally find the perfect craft ale, it's an ale-lujah moment!
Brew-tiful: Craft beer is not only delicious but also brew-tifully crafted.
Pour Decisions: Making pour decisions never felt so good with craft beer choices.
Hoptimistic: Craft beer enthusiasts are always hoptimistic about new brews.
IPA-lutely Amazing: An IPA-lutely amazing craft beer deserves all the praise.
Crafted with Hops and Love: Craft beer is like a labor of love, crafted with hops and love.
Ale-ing for Your Love: Craft beer enthusiasts are always ale-ing for your love and attention.
Lager than Life: The taste of a well-crafted lager can be larger than life.
Wheat-tastic: When it comes to craft beer, wheat-tastic brews are always a hit.
Hopsolutely Fabulous: A truly exceptional craft beer is hopsolutely fabulous.
Brew-tiful Creations: Craft brewers are known for their brew-tiful creations.
Pint-sized Delight: Every craft beer pint is a pint-sized delight.
Malt-tastic: Craft beer with a perfect balance of malt is simply malt-tastic.
Stoutstanding: A well-crafted stout is always stoutstanding.
Sud-sational: Craft beer lovers can attest that every sip is sud-sational.
Be(er) Yourself: In the world of craft beer, it's essential to be(er) yourself.
Craft Beer, Don't Care: When it comes to craft beer, we don't care about anything else!
Brew-tiful Minds Think Alike: Craft beer enthusiasts share a special bond of brew-tiful minds.
Hop to It!: When a new craft beer is released, it's time to hop to it and give it a try!
Cute Craft Puns
I'm Sew in Love with Crafting: Crafting can make your heart sew happy!
You're Knot Going to Believe This Craft!: This craft is knot your ordinary DIY project!
Crafting is a Piece of Cake… or Craft!: Crafting is as easy as a piece of cake… or craft!
We Make a Perfect 'Pear' in Crafting: When crafting together, we make a pear-fect team!
You Rock-craft My World!: Crafting with you makes my world rock-craft!
Crafting Makes Me 'S'Mitten': I'm s'mitten with crafting, just like I'm s'mitten with you!
Crafting is My 'Cup of Tea': Crafting is my favorite cup of tea!
You're 'Sew' Talented!: You're sew talented, it's incredible!
Crafting is 'Un-fur-gettable': The memories we create while crafting are un-fur-gettable!
Love at First 'Craft' Sight: When I saw that craft, it was love at first sight!
You're My 'Craft' Companion: You're not just a friend; you're my craft companion!
You Make My Heart 'Glue': Being with you, my heart is glued with happiness!
Crafting is 'Knot' Your Average Hobby: Crafting is knot your average hobby; it's extraordinary!
You're the 'Button' to My Crafting: You complete my crafting projects like a perfect button!
Crafting with You is a 'Stitch' in Time: Crafting with you is a stitch in time I'll cherish forever!
Let's 'Paint' the Town Crafty: Together, let's paint the town crafty with our creations!
You're 'Sew' Special to Me: You're sew special; I'm lucky to have you in my life!
Crafting Is Our 'Thread' to Happiness: Crafting together creates a strong thread to our happiness!
I'm 'Yarn-ing' for More Crafting Time: I'm always yarn-ing for more time to craft with you!
You're the 'Glue' That Holds My Heart: You're the glue that holds my heart together, just like craft projects!
Craft Show Puns
Let's Craft Some Memories at the Show!
Get Ready to Craft-stravaganza!
Crafting It Up in Style: Show Edition!
Unleash Your Crafty Side at the Show!
Craft-o-Rama: Where Creativity Takes Center Stage!
Prepare for a 'Craft-erpiece' Extravaganza!
Showcasing the Best in Craft-tastic Creations!
Join Us for a 'Stitch'-ing Good Time!
Get Your Craft on at the Show!
Knit Happens at the Craft Show!
Embrace the 'Art'-mosphere of the Craft Show!
Get Your Hands Busy at the Craft Show!
Paint the Town Crafty at the Show!
Craft Show Magic: Where Dreams Come to Life!
Crafting Community Unite: The Show is Here!
Crafty Adventures Await: Join the Show!
Let's Get Crafty, Show Edition!
The Craft Show: Where Makers Gather!
Ready, Set, Craft! The Show Begins!
Get Crafty, Get Inspired: The Show Awaits!
Halloween Craft Puns
Have a 'Boo-tiful' Halloween with Crafty Creations!
Get 'Witch'-y with Halloween Crafts!
Craft Up Some 'Gourd-geous' Pumpkin Decorations!
Get 'Franken-crafty' with Spooky DIYs!
Halloween Crafts: It's a 'Goblin' Good Time!
Don't be a 'Scaredy-Crafty' – Dive into Halloween DIYs!
Get Your 'Spook-tacles' on for Halloween Crafting!
Crafting 'Boo-ties': The Perfect Halloween Treat!
Halloween Crafts: 'Fang'tastic Fun for All Ages!
Unleash Your 'Boo-tiful' Creativity with Halloween Crafts!
Have a 'Pumpkin-derful' Halloween with Crafty Fun!
Get 'Mummy-fied' in the World of Halloween Crafting!
Craft Up Some 'Ghoul-icious' Halloween Decor!
Halloween Crafts: Where Imagination Meets 'Boo-ty!'
It's a 'Scream' of a Time with Halloween DIYs!
Crafty Trick or Treat: Halloween Edition!
Halloween Crafts: Brew Up Some Spooky Magic!
Don't Be a 'Craft-o-lantern' – Get Crafty this Halloween!
Have a 'Spook-tacular' Halloween with DIY Delights!
Christmas Craft Puns
Have a 'Merry Craft-mas' with DIY Delights!
Craft Up Some 'Sleigh-tastic' Decorations!
Get Your 'Elves' Busy with Christmas Crafts!
It's the Most 'Wonder-craft-ful' Time of the Year!
Deck the Halls with Crafty Creations!
Craft-mas Joy: Where Creativity Meets the Season!
Crafting 'Snow'-much Fun for Christmas!
Jingle All the Way to the Craft Room!
Get Wrapped Up in Christmas Crafting!
Crafting Up Some 'Jolly' Good Times!
Have Yourself a Crafty Little Christmas!
Unleash Your 'Rein-craft-ments' for the Holidays!
Holly Jolly Christmas Crafts: Tis the Season to Get Crafty!
Get 'North-pole-sed' in Christmas Crafting!
It's a 'Gift'-ed Season for Crafters!
Crafty Christmas Magic: Where Dreams Come to Life!
Santa Claus is Coming to the Craft Room!
Crafting Up Joyful 'Mistletoe'-ments!
Wrap Up the Year with Festive Christmas Crafts!
Crafting Up Some 'Fa-la-la-la-Fun' for the Holidays!
Craft Brewery Puns
Hoppy Ending Brewery – A brewery specializing in craft beers with a happy ending.
Brew-tiful Creations – Crafting beautiful and delicious brews.
Ale-lujah Brewing – For heavenly beer tastes.
Hops and Dreams – Making your beer dreams come true.
Wort the Effort – Putting in the extra effort to create amazing brews.
Pintastic Brews – Brewing beers that are simply fantastic.
Fermentation Station – Where the magic of fermentation happens.
Hoptimistic Brews – Spreading optimism one pint at a time.
Malty Goodness Brewing Co. – Celebrating the goodness of malts.
Brewer's Block – Breaking through creative blocks to craft exceptional beers.
Alechemy Brewing – Turning ingredients into liquid gold.
Hopsession Brewing – Craft beers that lead to a session of enjoyment.
Cask Crusaders – Always on a quest for the best cask-conditioned ales.
Barley Legal Brewing – Pushing the boundaries of brewing creativity.
Grainiacs Brewery – Obsessed with grains and brewing perfection.
Mash Masters Brewing – Experts at the art of mashing grains.
Lager-than-Life Brews – Big, bold, and full of flavor.
Brewed Awakening – Waking up your taste buds with every sip.
Puns and Pints – Where wordplay meets craft beer.
Sud-sational Brewing – Brewing beer that leaves you feeling sensational.
Final Thought
As the sun sets on the world of "Craft Puns", we bid farewell to this whimsical realm of creativity and laughter. But fear not, for the memories we've woven together will forever be stitched into the fabric of our minds. You can also check out more funny kid jokes here.
Until we meet again in another realm of laughter and creativity, let's continue to craft puns, share smiles, and spread the joy of wordplay wherever we go. Farewell, fellow crafters of puns, and may your journeys be filled with happiness and laughter, one pun at a time.